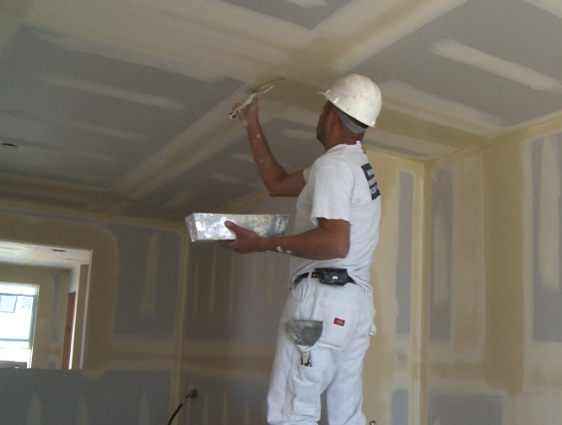 Drywall Finisher
Prepare unfinished interior drywall panels for painting by taping and finishing joints and imperfections.
Drywall consists of a thin layer of gypsum between two layers of heavy paper; it is used on walls and ceilings in most buildings today because it is faster to apply than plaster and gives a professional finish when completed.
Using the wide, flat tip of a special trowel, drywall finishers spread joint compound into and along each side of the joint between two hung drywall panels and use a paper tape to cover the seams between panels, resulting in a uniform and almost perfect surface.
working conditions
Drywall Finishers work indoors in a dry environment. While the temperature may vary, the work cannot be performed below 50ºF. The work involves standing, bending, climbing lifting, kneeling and working with arms over the head much of the time.
interest & temperament
A Drywall Finisher must be able to work carefully and often without close supervision. They must be adaptable to a wide variety of working conditions. The job requires a considerable amount of bending, kneeling, lifting and standing.
educational background
Courses in general mathematics, blueprint reading, mechanical drawing, general construction with shop provide a good background.
Download Apprentice Schedules
Want to Become a Drywall Finisher Apprentice?
Painter, INdustrial coating & Lining app Specialist