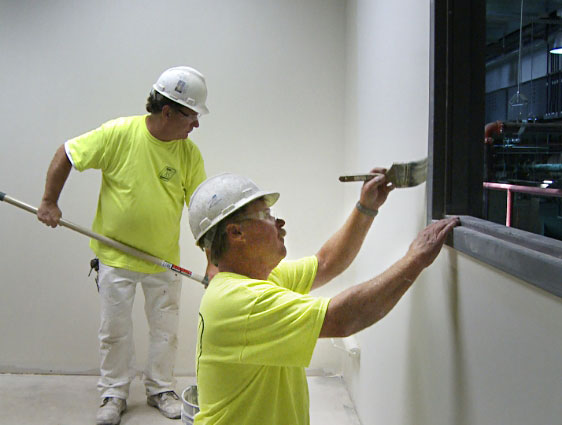 Painter-Decorator
Prepare surfaces of buildings and other structures and then apply paint by means of brushes, rollers or sprayers. Work with varnish, enamels, lacquer and other materials. May also paint interior rooms or cover walls with paper, fabrics, vinyl or other materials (paperhanger). The painters must be able to mix paints as well as do sandblasting and water blasting.
working conditions
Painter-Decorators work both indoors and outdoors depending on the job. When outdoors, the work must be performed in a dry environment, with temperatures at least 35º F or per the product specifications. For indoor projects, the conditions may be climate controlled. Painter-Decorators do a great deal of standing, bending, kneeling, squatting, lifting climbing and carrying, with some work at heights.
interest & temperament
A painter-decorator must be able to work carefully and often without close supervision. They must be adaptable to a wide variety of working conditions. The job requires a considerable amount of bending, kneeling, lifting and standing.
educational background
Courses in general mathematics, blueprint reading, mechanical drawing, general construction with shop provide a good background.
Download Apprentice Schedules
Want to Become a Painter-Decorator Apprentice?
Painter, INdustrial coating & Lining app Specialist